"Isn't there something like Tinder but just to make friends?" 
Yes, there is. For everyone who has been waiting to match with people before they meet, or those who are simply looking to make some new friends; there are plenty of options out there for you.
Part of an international existence is that every once in a while you have to start over completely.
Depending on where you work or study it may be easy to find new friends, but if you are not so lucky; don't worry. The Internet is here to help you.
So, put your friend face on and let's get matchin'
Same idea as Tinder Social, the app Bumble also has a BFF section within the dating app.
From their own website;
"Bumble users were requesting the ability to keep the app when they were in a relationship because they had found friends on the app. They were already entering their same gender into the "show me" settings to try to find friends. We often heard requests for a friend-finding feature from users who were new to new cities or on vacations. Lastly, we were incredibly excited about creating BFF because it lessens the limitations of the app, and this expansion of use reflects the brand more accurately as an all-compassing component to the people's communication and lifestyle.
Once BFF is selected, you're shown all other people of the same gender who are also looking for BFFs. All BFF communications are marked with our new callout mint color from matching screen to expiring queue, to conversation list and conversation bubbles. We are incredibly excited about the ability to help people find anyone from a new BFF to a best man."
Most people know Couchsurfing from having strangers crash their sofa, but Couchsurfing also offers a lot of events and meet-ups between travelers and local people who either have a free sofa, or those who don't but still want to show new people around.
Because CouchSurfing already has such a big network you will undoubtedly be able to find people living nearby who would love to meet up.
When trying to find a sofa match some people also indicate they don't have a couch for you, but they are up for having drinks and getting to know new people, so even if you already have a place to live you can simply send around some messages to local people on CouchSurfing and see who is interested in socializing with you.
Plus, when you are already settled in you yourself can meet up with travelers coming to town and show them around.
According to their website "Couchsurfing is a global community of 14 million people in more than 200,000 cities who share their life, their world, their journey. Couchsurfing connects travelers with a global network of people willing to share in profound and meaningful ways, making travel a truly social experience."
As the name indicates this app caters mostly to larger cities. Nonetheless, this is a great way to socialize when you have just moved there or when you are simply traveling around and you would like to make some local contacts.
From their website
"Citysocializer is the local, social life app to do more of the things you like with people going out around you. A place that combines having fun with new people offline, and a place to stay in touch with them online as your new network grows.
The latest pop-ups and art shows, running in the parks, a glass of wine after work or a coffee and Sunday movie – the community host socials for each other and invite you to join them.
Knowing how tough it could be to meet new likeminded people in cities – whether to find a better social life or being new to a city – we nurtured our first real-world community in London and today have grown to every major city in the UK, New York, Chicago, and Washington."
This may be a good option for those who move to a new city with a friend, but still want to get out to socialize a bit with the locals.
CLIQ allows you to create a group with one or two other friends and match with other friend groups.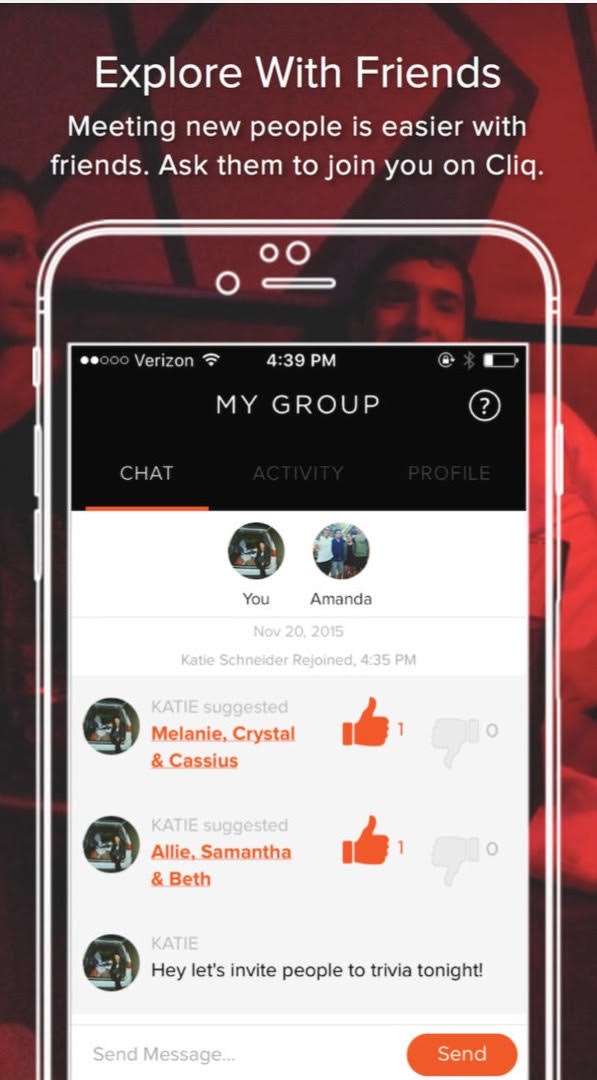 Saving the best for last!
"A fresh breed of social apps for you and your dog"
For all the people out there who think animals are better than people – you are so right.
The internet has provided us with options for people like us.
Meet My Dog allows you to browse through the dogs that live near you and meet up with them and their humans.
Honestly, what could be better than meeting new dogs and the people who own them?
Similar apps to Meet my dog are; Sniffr and Pets Amino
With the entire internet at your fingertips, there is no reason to remain friendless.
Do you know any app that hasn't been mentioned in this post? Please let us know in the comments!